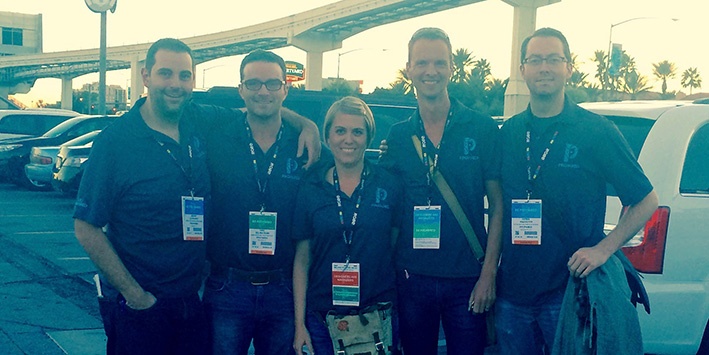 It's happened. It was always a matter of time. Over the past year, it is safe to say the entire events industry has completely wedded itself to the tech explosion. Don't take my word for it. Look at the evolution of the industry's biggest trade shows and influencers to see for yourself. InfoComm introduced its first annual Innovations Showcase to highlight new event tech products. Startup pavilions popped up at IAEE, IMEX, IBTM as well. Event tech awards and programs continue to grow in popularity. If there is a part of the event planning lifecycle that can be improved (or augmented) with the introduction of technology, you can find an app for it.
Communicate and collaborate with an event production team. Check.
Analyze your attendee engagement. Check.
Build a website and sell tickets. Check.
Even toss a plush microphone around a panel discussion. Check that, too.
All this tech isn't necessarily a bad thing. Heck, we make an event tech product ourselves! There are many processes and logistical challenges that can be solved with technology. It can make the management of an event more efficient, enjoyable, and ideally cost effective. But while it remains to be seen how this global marriage will evolve, at least one thing will never change. For planners and production managers to put on a great show, they need to cultivate strong partnerships. While some may contend there are true "one-stop" shops out there for producing an event, we all know there is always someone better suited for a particular task than us. And it is likely to be cheaper and more efficiently done. Building these partnerships can take a lot of work. Here's a few tips to get you started and help maintain them for years to come.
1. Keep Your Ear to the Ground
Something that can never fully be replaced? Word of mouth. Yes, there are plenty of aggregated review sites promising thorough, vetted customer feedback. But is there really anything better than hearing it right from a fellow manager? You get context, specifics, and the opportunity for two-way engagement. So if you are looking to source out event work, and hopefully find some good long term partners, ask around. The best event planners have developed checklists and contact sheets over years of hard-earned experience. Do a little first hand research! If you haven't already, join professional networking groups both online and in person. Ask a lot of questions and take meticulous notes, especially on the specifics of how these potential partners do business. Before long, you'll have an enviable contact list for every type of service.
2. Address Your Weaknesses
As mentioned above, no one can be an expert in everything. There will always be someone who specializes in a facet of event work and can do it better, faster, and cheaper than you. Spend some time assessing your own strengths and weaknesses. What makes you different? What can you do better than everyone else? This is a critical step if you are just starting up your own event production business. If you've been at it for a bit already, you've probably already done this. Focus instead on the services you need help in providing. Let these be the first series of partners you cultivate. You'll drastically accelerate your ability to market yourself and scale your business. If you have to go looking for partners every time an opportunity presents itself, how will you ever grow?
3. Find Shared Business Values
Say you pride yourself on running a very environmentally conscious company. But you choose to hire a vendor who REALLY doesn't share this value. What does that communicate to the client? You could have a big problem on your hands. Especially if one of the reasons the client hired you was because of your commitment to being green.
When executing an event, every vendor, tech, and delivery person working on site is representing you. It doesn't matter if he or she is employed by a third-party or not. Not to the client. Choose your partners wisely, with the same diligence you would use in hiring your own team. There are a lot of talented people in the industry. Often, when sourcing design work, an event rental and staging company, an A/V provider, or a caterer, it can come down to personal taste and style. Perhaps a better measure for finding a good partner (or a measure worth assessing first) is to look at the prospective company's values. How do they line up with your own? Do you have similar approaches? The better aligned your company cultures are, the easier it is to work together toward achieving the same goals.
4. Pay Attention to Working Style
Beyond value sets, it is important to assess a potential partner's working style as well. Does it jibe with your own? It doesn't necessarily have to match. Let's say you are a very strong, extroverted leader. How would you feel if the management team was full of other strong, extroverted leaders? An entire room packed with Type-A personalities. It might work. It might be a trainwreck. It's your responsibility to do a little self-assessment and figure it out. What personality types do you work well with, what types tend to cause friction? In most cases, events are quick-moving, with thousands of small details that need addressed in limited time. You need to feel confident that your collective working styles compliment and improve each other's output. A long term personal goal may be to strengthen your ability to work with any type of person. Great, save that for between deadlines. When it's crunch time, you just need to bring your partners in and hit the ground running.
5. Safety, Safety, Safety
Let's bring it back around to technology. The increasing use of event tech doesn't simply mean apps. It means more complicated, intricate builds. It means automation systems for lighting. It means interactive video displays, projection mapping, drones, and so on. As more becomes possible in event production, the more necessary it is that you always maintain the highest standards of safety for your team, your vendors, and your attendees. Engage partners that they are certified and licensed to handle the equipment they provide. Particularly if that equipment is complicated, heavy, requires specific operating knowledge and installation procedures, etc. Your vendors should display credentials proudly and claim safe practices as a core value. Anyone can claim to provide a particular service but the real question you must always ask yourself:
Do you trust the safety and health of your client's guests and your own people in this partner's hands?
Finding the right partners for your event business all comes down to trust. Do you have faith that the partners you work with will do what they say, when they say it, and do it well? If you are first getting started, you won't really know until you work an event with them. But if you've done your research, found partners that share your values and compliment your working style, and treat your clients with the same care as they would their own, you should have a darn good chance of a positive outcome.

Event managers, how do you find the right partners for your business? Share some of your experiences in the comments below.