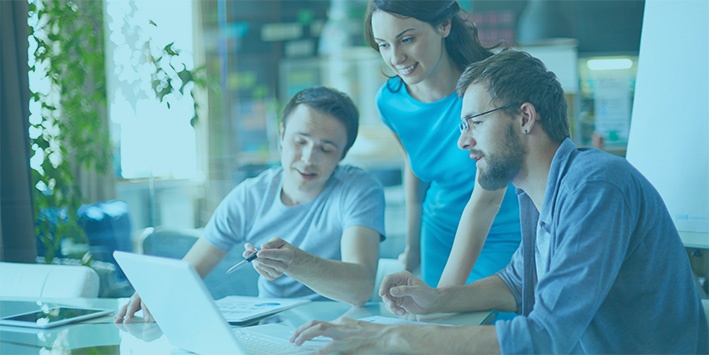 Every event and production manager knows: it can take a village to put up a project. That's why, as the holiday season gets into full swing, we thought it might be nice to look at some ways to say thank you to all the people (crew, techs, assistants, vendors, etc.)  who make the managers look so good. There are really two big categories for showing appreciation for your team.
The Special Occasions
Generally, these can be considered ways of thanking your crew and partners that go above and beyond the gigs themselves. Of course, "special" in this instance doesn't mean "rare." You might find some of these ideas to be good common practices in your event production business. Especially if you want to build a reputation as someone who is excellent to work with.
1. Thank you notes (preferably of the handwritten type)
It's amazing how seldom this is done. And yet it is so easy to do and makes a huge impression. It's often recommended to send notes after job interviews, why not after the successful completion of the job itself? An event manager can forget, for example, that the A/V tech who comes in to set up gear has been on his or her feet all day. Probably at three other events around town (especially this time of year). Letting him or her know of the importance of the contribution can go a long way to securing his or her help in the future.
2. Leftover stuff from the gig
There's always something, right? Whether you got some goodies from the client or other vendors, ask yourself if you really need it. Chances are, you'll have plenty of other gigs with plenty of other opportunities to collect a keepsake or two. Better to hand it out to your crew who almost NEVER get this kind of swag thrown their way.
3. Bonuses
'Tis the season of giving, right? Always make sure it is done responsibly and fairly. Even if you mostly hire freelancers, you've likely worked a dozen or more times with the same people over the year. Why not let them share a bit in the successes you've all enjoyed?
4. Throw a party!
Here's an example. At the end of every New York Fashion Week, we at Tinc throw a party for all the people who worked on the various shows. It's a grueling schedule and yet time and again, our people rise to the challenge and execute a flawless event. It doesn't have to be an over-the-top extravaganza. Just a little something to let them have a party of their own, rather than just be the creators and builders of everyone else's.
5. Don't forget your Third-party Vendors
Want to think about an even more ignored group of people who contribute in huge ways to the success of an event? Rental shop crew. They rarely even come on site, so how do you recognize them?  Here one way. Sometimes, at the end of an event, you can put leftover booze in the road cases to go back to the shop as a little thank you.
The Day-to-Day
While special occasions are nice and may become part of your routine, it's even more important to take daily actions to show your crew just how valuable they are. Build it in to your policies and event planning programs. If you're really taking care of your crew, you're always saying thank you. Instead of only occasionally making someone feel good, you're establishing a consistent, positive environment. Best of all, many of these things are pretty easy to do.
1. Pay for & cater breaks
There is not a lot of down time on a site. Give your team the opportunity to relax and get some nourishment rather than go hunting for their own.
2. Always have water on site
A minimal expense and set up for you but a huge deal for everyone working.
3. Pay everyone on time
Should be a given but all of us in the industry know it doesn't always happen. Build it into your contracts and deliver. It establishes you as a reliable and trustworthy manager.
4. Give them recognition for a job well done
Hold a post-event check in for everyone to acknowledge all of their hard work. If you've got people clocking out at different times, make sure to touch base with them before they leave. You may not get the chance again. This may be the last impression you leave them with before you pick up the phone to hire them again. Make it the right one.
5. Above all, say thank you
It's the easiest and cheapest form of showing your gratitude and really goes a long way. And go old school. Don't say it in passing, it comes off as insincere. Take a pause. Look the person in the eye. Say thank you and say what you're thanking them for. And mean it.
One of the Production Managers at Tinc, Duncan Northern often says, "Acknowledge (the crew) first and foremost. Often times, those working behind the scenes are thought of as irrelevant because many times, no one else is in the room with them as they are working. Artistic teams often don't see their struggles or their successes. So for me, letting them know that I see them, that their efforts do not go unnoticed, is a must. They are craftsmen and professionals just like those who come on the stage after them. Acknowledging that craftsmanship is, I think, as important as anything else."
So the next time you see one of you team passing by on site, show him or her a little love. It will go a long way to establishing you as someone worth working with and for on events. Have a great holiday season!
Event managers, how do you thank your teams and suppliers? Share some thoughts with us in the comments below.