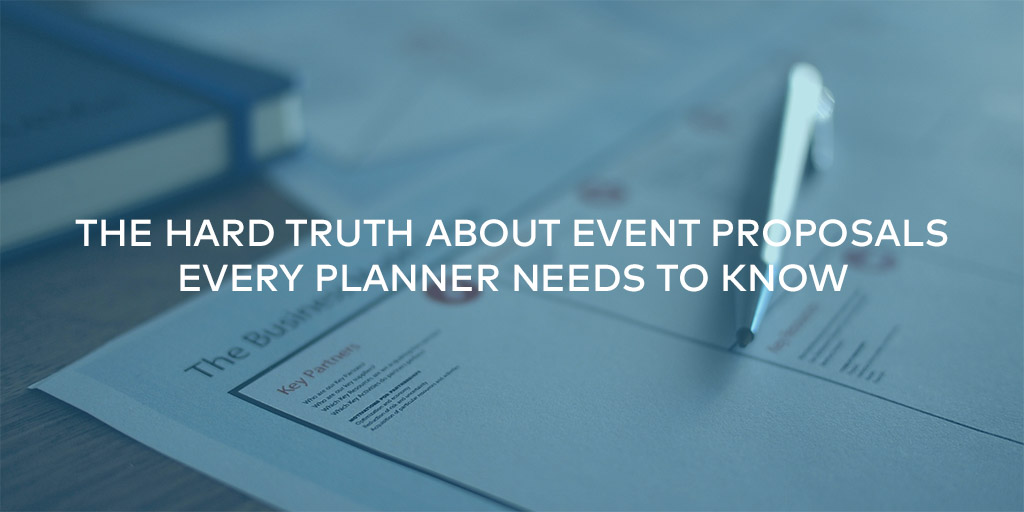 I've been putting off writing this for some time. Mainly because crafting an event proposal can be one of the most frustrating parts of my work day. And I don't think I'm alone in this. Yet in many instances, they are necessary for securing work. Many clients rely on RFPs (requests for proposals) to adhere to their own company policies. RFP. Just typing those letters makes me shudder a bit. But why? Why do we have such a combative relationship with the proposal process? Here's a few thoughts.
Proposals are often based on a small amount of information. Designs haven't been fleshed out, the venue hasn't been selected. We often have to build proposals based on pretty wild assumptions.
We don't yet understand our client. How is he or she going to compare proposals? Likely based on his or her understanding of event production, not yours. I've seen companies win bids by hitting all the right buzzwords. I've also seen companies intentionally present a low-ball offer to win a contract. Even though the budget is unrealistic, they know that the client will have no choice but to up the spend once the ball is rolling.
Let's be honest. It takes a lot of time and effort. Events can be so drastically different, it's hard to establish one event proposal template you can use again and again (though there are some common elements you can rely on). It often feels like you're doing half the job when creating one. And you haven't even got the job yet! This is especially true if design is part of your service/proposal.
Clients make decisions using many different criteria. Bottom line numbers, trust, referrals. Sometimes, what tips the scale has nothing to do with what you've put in your document.
Speaking of the bottom line, it's awfully tough to build a proposal with no guidance on an event's scope or budget. Yet you'll still be asked to provide one.
And at the end of the day, it's just paper. Event production is a process. It's built on relationships and good management techniques. All of this can be difficult to communicate on paper.
Enough lamenting. Proposals are here to stay (for now) and event managers have to figure out a way to work with, not against them. Try the following.
Redefine the purpose of your proposal.
There are a lot of different goals you might have when submitting one to a client.
Get the job no matter what!
Introduce the client to your approach and thought process.
Introduce your design aesthetic.
Solicit more information from your client about his or her goals, company, etc.
Show that you have a complete understanding of this type of project.
Prioritizing these goals can help focus your writing.
In some cases, redefine what "Proposal" Means
During the submission process, you'll likely get to know the client. Take note of how you interact. Does he or she "get" you? Do you find yourself brainstorming ideas before a single bit of planning has been done? In these instances (and there are many), you may want to concentrate on nurturing the relationship with the client. Your "proposal" is delivered in how you talk and think about producing an event. You'll still need to put some numbers on paper. But this type is much more about you, your energy, your spirit, and your sense of humor than your polished grammar. I know a designer who submits collages and mood-boards. That's it. His "proposal" is delivered unambiguously in every meeting and phone conversation. Clients hire him because they know he'll deliver. His focus is 100% on "do we click" and that's what his clients are seeking. A perfect match.
Understand Your Reader
The best proposals speak directly to the intended audience. You should know as much about your client's perspective as possible before submitting. Is he or she likely to ignore the meticulous detail you've provided and just choose the lowest bid? If so, you'd better be the lowest bidder. If you can't be, don't bid on the project. Saying no is never easy. But you'll be far better off bowing out if you don't think you can compete than compromising your reputation for the sake of one job.
Understand who YOU want as a client
Proposals also can be great tools to weed out the clients that aren't right for your business or aesthetic. Be honest about why you do what you do. Define what makes your business special and why you are the right fit for your potential client. You don't really want to work with a client that wants something you're not. Money is nice, but we do what we do because we love it. It may feel like you're often at the mercy of the client but the event proposal can be a powerful tool to put you in the driver's seat.
I admit, my bias was hard to squash. Event proposals can be infuriating and I've spent many an hour stressing over how to craft them. But I've learned over time that proposals are opportunities to establish and define relationships. They are openings to delve more deeply into the work you're passionate about and find clients who share your visions. Take a deep breath and dive in. You never know what might work in your favor.
How do you submit an event proposal? What information is most important to communicate to the client? Let us know in the comments below.