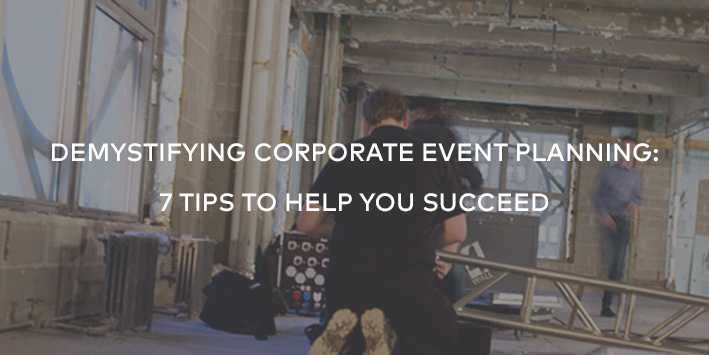 We've all heard the words "industrial" or "corporate event" before but what exactly do they mean? And what do you picture when someone tells you about a "corporate event" he or she is managing? Let's call them what they are: live events. Forget this notion that somehow only concerts or theatrical shows can be considered "live." Is there an audience? Is someone presenting something; a trade show, a product launch, a PowerPoint? Yes? Then it's a live event. Internal departments in the corporate world deal with the same types of technology (lights, sound, video, etc) that theatres often do. You could have a turn-table for a stage or a turn-table showing off a new car. It doesn't matter. What defines an event as live is that it is happening at a particular point in time, whether you are ready or not.
All that said, there are some key differences between being a stage manager and being a corporate event planner or manager. Knowing the differences can really jumpstart your career. Here's a closer look at a few.
1. The priority of goals will be different.
This is the first and most important thing to understand. If you come from the theatre world you will sometimes find yourself making decisions based completely different criteria. Certain elements may be given higher priority than you'd anticipate. Some corporate event goals I've encountered in my career:
Inform/educate the audience about the company and its position. This can include press releases, shareholder meetings, corporate restructuring, and so on.
Impress the audience. This is often about launching a new product, building a brand, or executing some kind of experiential marketing campaign.
Advertise. You may produce an event that is simply part of a company's overall promotion strategy. Rather than buy ad space, a company could develop a traveling product road show.
Get the audience to buy something or give money. Just imagine the launch of the next Apple product and you know what kind of event this can turn out to be.
Influence corporate culture/decision making habits. The audience may simply be employees. A diversity training seminar is a live event. Think about the process of planning that.
Pure entertainment. Well, you theatre folk and road warriors know all about this.
2. You'll work with a lot more companies and third parties.
Due to the scale and resources required (not to mention the liability factor), you'll typically see companies contracted to fulfill specific roles rather than individual freelancers (such as labor, video production, A/V, etc). Think about it from a theatrical perspective. How many decisions do you make, how many extra jobs do you do because you just don't have the money to do it the way you'd like? Corporate event planners can often say yes when theatrical managers have to say no.
3. Prepare to navigate a variety of organizational structures.
Theatre has a rather traditional operational model. Roles are well-defined and understood, which makes training more straightforward. Each corporate event can have a unique structure. It all depends on who's in charge, who's on the team, and what goals you are trying to accomplish.
4. The responsibilities for each position may change.
Here's an example. In theatre, the stage manager is highly involved in the planning process throughout rehearsals and pre-production. In a corporate event, the stage manager typically shows up at the start of tech, grabs a script, and dives into the show cues. This may be the stage manager's ONLY role. In fact, tech might be the same day as the event itself! Imagine that. Stage manager for a day.
5. There are crossovers in disciplines and departments that may be unfamiliar.
A corporate event is often simultaneously presented for a live audience and a broadcast audience. This will have major ramifications on how the show is lit and staged. The use of live-streaming, or simulcasting is changing in theatre as more artists are tapping into this technology to broaden their reach. But for the most part, it is still new. Corporate clients have been engaged in it for years.
6. The time table is much tighter.
Time is money, right? No truer is that statement than in corporate events. Load-ins will last hours instead of days. Tech might be a day instead of a week. Essentially, you're accomplishing everything that gets done for a theatrical production but in a fraction of the time (although those of you who've had the joy of working a major festival like NY Fringe or the New York Musical Theatre Festival will feel right at home). This puts more pressure on the planning process. Everything has to come together quickly and in the right order with little room for error.
7. Venues will vary greatly.
Sure, there are different layouts for theatre: thrust, in the round, etc. But as with roles, there is a fairly set standard. In corporate events, anything could be your venue. It all depends on the goal. Tents, restaurants, homes, museums, piers, airplanes: if people can gather in it, you can have an event in it.
While there are some key differences between corporate and theatrical events, the real exciting part is that these differences are extremely manageable. In fact, the crossover opportunities are exciting if you work to gain a comprehensive understanding of both. Many corporate events are mini theatrical productions in themselves. It may not look like a musical, but the elements and logistics involved are very similar. It's not unheard of people tackling both types in a year. Your flexibility can drastically improve your hiring prospects, and give you more career stability in the long run. Events are everywhere, so get out there and tackle as many types as you can.
Do you work in both corporate and theatrical events? How do you approach each project? Share your expertise in the comments below.