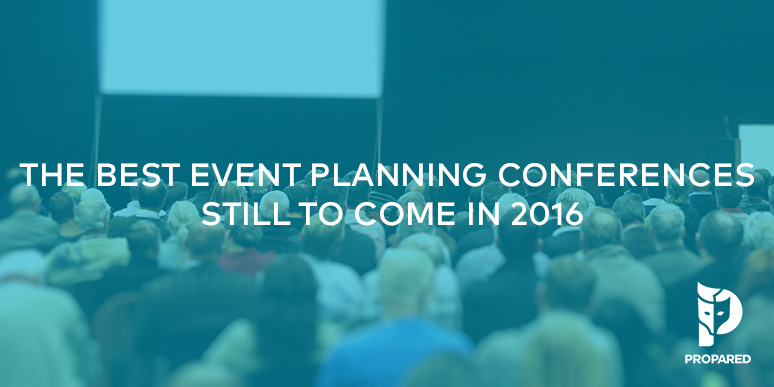 Event planners, especially those of you who run small businesses or work freelance, might find it tough to plan out your entire year in advance. Who knows what your schedule will look like, when you'll be free or swamped under multiple projects?
If you looked at attending conferences or workshops back in January, you might have spotted dozens that seemed valuable; educational opportunities, networking, trade shows…but then work started rolling in and we all know what takes precedence.
So as we enter the Fall and the last few months of 2016, we thought it might be a good idea to highlight some of the best event planning conferences and exhibitions still to come. Maybe you've got a little space in your work calendar! If so, we recommend checking out one or more of these great events.
September
We know, technically the ship might have sailed on this first event. But MEET is simply too good to not mention. Two jam-packed days of education and networking that connects meeting and event planners to some of the best event tech and service providers in the industry. MEET is primarily geared to corporate planners and does a fantastic job of balancing pre-set appointments with spur-of-the-moment meetings.
Smart Meetings is just like its name suggests. The media company hosts a series of regional events designed to set one-to-one appointments between meeting and convention planners and properties looking to find events to host. Couple that with exciting event tech demonstrations and plenty of hosted activities and you're in for three days of business meeting pleasure. Note: these events are not for the budding planner; they cater to professionals with established networks of groups and significant track records of booking events. If that sounds like you and you're out Arizona way, check it out!
MICE is billed as the only exhibition in APAC that focuses exclusively on connecting buyers and sellers in the Meetings, Incentives, Conferences, and Exhibitions industry. Asia is one of the fastest growing markets for event and meeting planners to book events and this year's exhibition promises to put that growth fully on display (organizers are anticipating attendance to double from last year). We hear Singapore is beautiful this time of year…
October
Wedding Pro caters specifically to professional wedding planners, suppliers, and service providers in the $300 billion ($58 billion in the US alone) wedding industry. Over three days, planners can choose from over 150 seminars, many of which are laid out in specific tracks to match your niche or expertise. Round out these sessions with 40+ exhibitors to meet and engage with and you've got three days of wedding planning bliss.
4 hours. 125+ exhibitors. 2500+ attendees. 1 venue. If that sounds exciting (or overwhelming, in a good way!) then you might want to find your way to the heart of NYC for this one-day gathering. Meet some of the industry's leading event and corporate planners and engage with the best the Big Apple has to offer from venues to vendors, services to suppliers.
IMEX America is back and better than ever. It's the single largest event on the annual slate of conferences/exhibitions geared to the meetings industry. Attendees can engage with hundreds of exhibitors offering the latest in services for any kind of event planning need. Choose from a massive list of educational and networking sessions, see the latest and greatest event tech in the IMEX Pitch competition, or sit in on forums with industry leaders. Oh, and did we mention it's complete free to attend? If this isn't already on your calendar, mark it down and plan your trip to Vegas.
When we came across this event, we perked up immediately. A conference dedicated to providing resources not just for event and wedding planners, but for those planners who are small business owners? Fantastic. We write a lot about ways to market and grow your event business so we were thrilled to find Founder Tara Melvin providing an opportunity for planners to grow their entrepreneurial skills.
November
The Association for Bridal Consultants is a leading trade show and conference dedicated to providing resources for new and experienced wedding planners. The sessions this year seem to offer an interesting balance between social media and other "hot" event tech trends and fundamental tools (catering, client development, finances, etc.) that are necessary to run a successful wedding planning business.
All you special events professionals that call the Mid-Atlantic/East Coast home? EventSource is built for you. This one-day trade show puts event planners in front of dozens of leading event suppliers, from design to catering, to event planning software, apps, and other tech.
This is a really interesting conference and unlike anything else on the Fall/Winter calendar for event professionals. Oh So Inspired is more "creative retreat" than conference and education. Sure, there are networking sessions, panels, and classes. But the focus is more on unlocking event and wedding planners' creativity. Organizers encourage attendees to extend their brands and find ways to break out of the "standard" way of producing events. Sessions that encourage event planners to boost their creativity are good for the industry!
Second verse, same as the first! This time, Smart Meetings comes to Dallas. Check out the Smart Meetings section above for more info on these events.
If you're looking for the latest in event tech, ETL should top your list! Partnered with Event Industry Newsand the Event Technology Awards, this one-day whirlwind connects event planners with tech suppliers leading the charge to push the event industry forward. See product demonstrations from more than 65 exhibitors and test software that is still in development. Whether you are looking for apps, event management software, data analytics, VR, RFID, or anything else tech-related, you'll find it at Event Tech Live.
If ETL represents the product side of event tech, then this conference drives the event marketing conversation. These days, live events are social events and Event Tech is the place to learn how to use social media and the latest event tech to amplify your events.
We couldn't have a conference list without mentioning BizBash. One of the leaders in resources for event and meeting planners everywhere, BizBash hosts a series of one day events throughout the calendar year to connect planners with the services they need to execute killer events.
IBTM World – November 29 – December 1
If IMEX is the big kahuna for meeting and event planners, then IBTM World is the same for MICE. Some 15,000 attendees are expected to make the trip (Barcelona, Spain this year) for three days of exhibitor meetings, hosted buyer engagements, networking, education, and innovation. New this year? IBTM has partnered with Event Manager Blog for its Innovation and Tech Watch Zone/Award. This competition is open to young event tech companies who are pushing the boundaries and saving unique challenges for MICE professionals across the globe.
There's a reason IAEE's annual conference and trade show is called "the show of shows." It is quite literally, the event planner's guide to everything he or she needs to produce a project. And Expo! Expo! Doesn't slack in the career opportunity category either. Attendees can select from over 70+ sessions in event design, technology, and business development. It's a pretty great way to cap off a successful year!
What events did we miss? If you have one you think other event planners should be attending, let us know in the comments below.