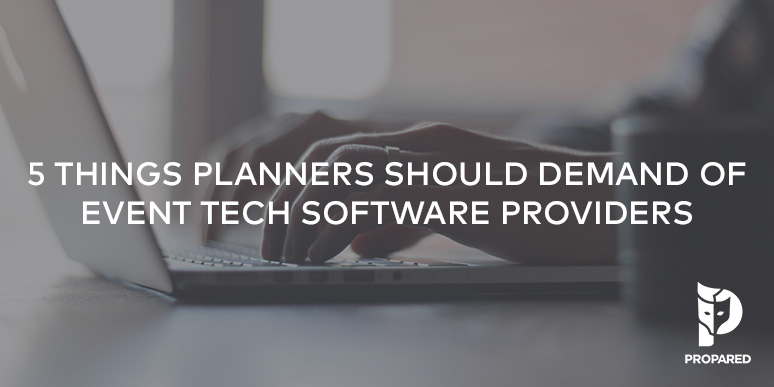 Let's start off with a basic assumption. Any event tech platform you're weighing has more or less the features you want. It has to meet your needs, otherwise you wouldn't even consider it, right?
What event planners often overlook is a host of other factors that equally as important, such as customer support, security, and flexibility. Even the best software can be rendered useless by poor oversight or server issues.
Before you spend a dime of your budget on a piece of shiny, new event management software, make sure your provider is addressing these five issues first.
1. Customer Support & Training
Even the most event tech savvy among us get stuck sometimes. That's where customer support comes into play. Research the provider's hours. Do they align with yours? Ask how long it takes to typically receive a reply. You may need answers fast when you're on- site. Event tech providers should understand the volatility of the industry and design a support experience that fits.
Explore the training materials. Are there checklists, how-to guides, FAQs, or video tutorials that can help you answer your own questions? Or do you have to file a ticket and wait till an "agent" can look up the issue? The best providers offer a robust mix of both live support and DIY content, allowing you to learn their systems at your pace. Check out Wistia as a great example of this balance.
2. Flexibility & Scalability
One of the goals of event tech software is to streamline internal processes. It should make the slow work go faster and allow you to focus on other parts of your business. Like serving clients and growing your company! When that growth happens, your software needs to scale with you. Is it easy to add new modules, additional users, or increase the size of the database? And can it keep up with a heavier load (i.e. more data)? You want a dynamic partner that is as committed to your growth as you are.
3. Ongoing Product Development
Hand in hand with its scalability is your provider's commitment to improving its product over time. The events industry is in a period of rapid change, requiring planners to adjust how they work. You should expect your event tech provider to be tracking and responding to these shifts as well.
Does your provider release regular updates to the platform? Does it improve existing features and/or add new ones? Does it engage with you and solicit your feedback to help in that development? You should be a part of the product development conversation.
4. Security
Event management companies may have different exposures and compliance requirements. The best thing you can do is to work with your IT or a security consultant to determine your needs. But there are some basic practices that all event tech providers should address.
If logging in to a program, all username/password communications should be encrypted between the client (YOU) and the server (YOUR PROVIDER)

All passwords should be stored in a secure manner (e.g. "hashed" or "salted" and encrypted. Ask your friendly IT expert.)

All credit card and billing information should be processed and stored adhering to PCI Data Security Standards (PCI-DSS)
You can typically find information about your provider's commitment to these practices in the privacy policy and legal sections of its website. Speaking of…
5. SLAs, PPs, ToS's and Other Legalese
As I asked above, what good are the features of an event tech program if it crashes all the time? Your event tech provider should have a very clear SLA (Service Level Agreement) that explains what you can expect in terms of app performance. Look for details such as:
When can you access the software (should be 24/7)

What is the average time in a month the application is inaccessible or "down" (you should expect <1%)

Information about how the provider will both respond to outages/problems and communicate those problems to you

Definitions of basic issues, their levels of severity, and corresponding times to fix said issues

Information regarding Support hours and response times (as we looked at in #1)
I know, we all hate to read Privacy Policies and Terms of Service. But they are the clearest window into what a provider intends to offer. Here's our Legal Stuff for reference. PPs and ToS's should explain:
How a provider will use, store, and share (or not share) your information

The responsibilities of the provider

Fees and payment expectations

Confidentiality and liability
Forget what a rep says in a sales call. These documents are written with a keen eye toward legal compliance. Meaning the provider has chosen what and what not to include very carefully.
One last side note: if the provider has written its privacy policy and terms of service in clear language that anyone can understand, that says a lot about their commitment to transparency and direct engagement. Don't ignore it.
Once you've thoroughly reviewed these factors, you'll be in a much better position to choose the best event technology for your company. Happy shopping!