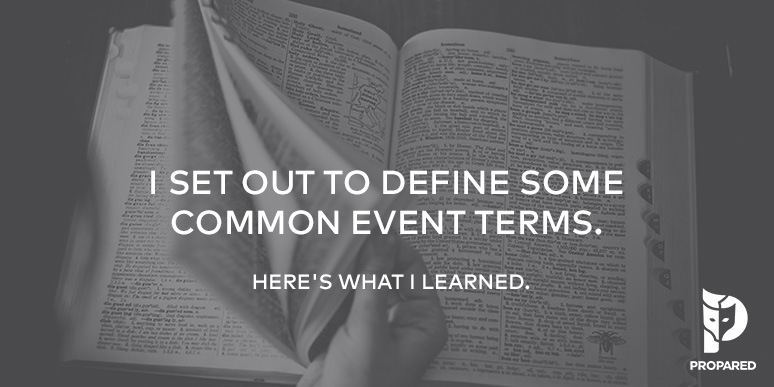 This is a story about how one idea for a blog turned into something completely different.
I sat down the other day to address the basics of event planning and production. I loosely called it, "Definitions 101." I wanted to bring a little clarity to the work event planners do. A guide, if you will, that could help a young professional (or someone in career transition) get grounded in "events speak." I learned very quickly, however, that doing this is a lot harder than it sounds.
Why is that? Well, the "events world" is impossibly broad. When someone says, "I work in events," it can mean a litany of things; corporate, theatrical, music, worship, and so on. And the production of live events has become a more integral part of general marketing strategy for many companies and industries.This means a diverse workforce, sporting a grab bag of backgrounds, skills, and experiences. It makes it difficult to classify, especially when trying to educate someone unfamiliar with how all the pieces fit.
It also makes working events that much more fun. So many different projects, pushing the limits of your creativity and problem solving skills. But before diving in, it's important to set some expectations. Here's what I learned.
First, event professionals don't agree on what to call themselves
Forget nicknames and Twitter handles. Pull up any list of current job openings and see if you can generally tell them apart. I recently visited a very credible event news and jobs site. This is a list of opportunities I found for job seekers.
Events Assistant
Junior Events Assistant
Event Manager
Event Coordinator
Event Executive
Events Administrator
Event Planner
Event Planning Manager
Deputy Events Manager
Head of Events
Event Operations Executive
Events Specialist
Special Events Assistant
What skills might you need in each of these jobs? How is an "Events Coordinator" different from an "Events Specialist?"
This can create confusion and set false expectations. For example, it's likely that one company's Event Manager may be another company's Event Coordinator. This is especially true if you work a variety of event types. From job to job, you'll find a fractured mix of terminology, usually agreed on to serve the needs of specific workflows. So you've got to dig deeper than title. Throw out your expectation of what a job should be and focus on what it actually is.
Ok, you might say, but any well written job description provides enough to find a good match. But that led me to my next big revelation.
The responsibilities are pretty much the same
Disclaimer: there are clearly, as in any profession, ladders to climb. There is no replacement for good experience. But show me an event manager, no matter how many years under his or her belt who isn't willing to jump in to help when necessary. It's simply part of the job. The event has to be executed and no successful event planner is willing to risk it failing because a task was "beneath" him or her.
Yes, titles are necessary. They convey the importance of one's role, particularly in the eyes of the client. They can also establish the hierarchy of an organization. And people work hard to earn them. But if you ask most event planners what they do on site, the answer is usually, "Oh, a little bit of everything." Strategic planning, logistics, design, budgeting, accounting, marketing, PR, HR. Each of these functions could be part of EVERY job listed above. Here are two examples, pulled from that same site.
Events Manager
Help prepare and present plans to managers and key stakeholders
Establish key performance indicators, measure, and deliver results
Manage and understand event budgets
Create post event debriefs and assist in event budget reconciliations
Ability to multi task and work on more than one event at a time
Proven experience working with cross functional teams and agency partners
Strategic and creative thinker with the ability to develop and deliver clear and concise briefs
Understanding of event logistics and technical production
Ability to think critically and react quickly and calmly in high-pressure situations
Assist Senior Manager on as needed basis
Event Specialist
Design and execute events in partnership with stakeholders
Serve as a consultant in making decisions regarding event details which includes but is not limited to strategy, cost, venue, and return on investment
Develop and manage event content, forms, RSVPs, and registration
Record event data and analyze for improvements
Demonstrate organizational skills, attention to detail, problem-solving skills, and ability to multitask under pressure
Possess social & networking skills and ability to work with a variety of personalities
Highly motivated self-starter, ability to collaborate with others as well as work independently
Must be able to motivate and inspire team members
Assist Manager as needed and ensure event planning process is being followed
Pretty similar, right? Especially note the last requirement of each. "Assist as needed." That's probably the single greatest definition of what one has to do on site.
So if the job titles are confusing, and the responsibilities are pretty similar, how should an aspiring events manager define goals and find a place in the industry?
Find what you love and promote what you do best
There are a few different ways to gain a foothold. Either you can focus on the work or focus on your particular set of skills.
The Work
At Propared, we're big advocates of event people crossing the invisible lines between theatre and corporate event planning. It broadens your perspectives and increases your flexibility (and hire-ability!). But when starting out, such a focus can be overwhelming. Too many options can lead to inaction.
Events are produced everywhere and for everything. It's up to you to find what inspires you the most. Is it putting up a fashion show? Is it a nonprofit fundraiser? Is it a Broadway show, or a convention, or the next Muse tour? If the responsibilities are somewhat similar, look to the end product as a guide. What feels most exciting, most satisfying to help produce? In a sense, you are layering one industry (events) with another (music, corporate meetings/travel, theatre, etc.). Which combination feels right?
The Skills
Even though you accept you're going to do a bit of everything, there are tasks to which you are naturally more inclined. Push, fight for them.Lead with your strongest skills. Are you more of a designer or logistics and operations person? Do you like client work or prefer to stay out of sight? Remember, everyone you work with on an event has the same "jump in and help" mentality. If your hiring manager or direct supervisor is good, he or she will build a complementary team. Each person can then bring to the table some element that creates a whole greater than the sum of its parts.
You should never feel like you are putting yourself, colleagues, or attendees at risk because you are forced to do something you don't know how to do. There will be time to work on your weaknesses.
After all my reading, it still feels a bit muddy. The events world is so complex. And there is always something happening, which can in turn be both exciting and overwhelming. It makes me want to curl up in the comfort of my Marketing role, safe in the knowledge that I always know exactly what to do (There may be a bit of sarcasm there). And that, may be my biggest revelation of all. Beyond the titles and responsibilities, the best thing to do is find what you love to do and go bury your teeth into it. The industry will be lucky to have one more passionate, dedicated soul producing the next generation of enthralling experiences.
Event managers, what advice do you have for aspiring colleagues? Share your thoughts in the comments below.