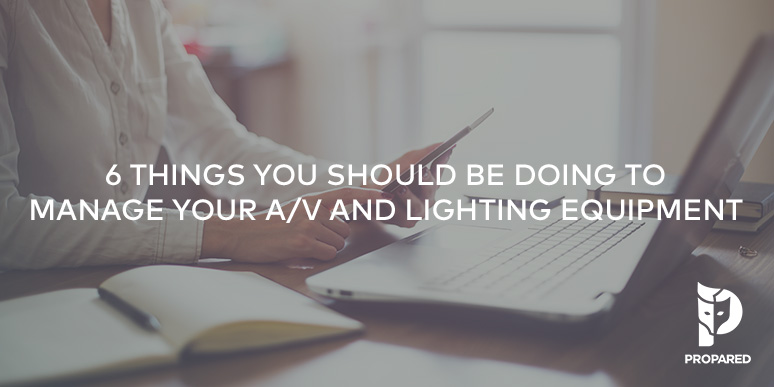 You know the sinking feeling you get when you have to backtrack on a promise you made to an event planner or client? There's nothing worse. Sometimes, it's unavoidable. But sometimes, particularly in the case of equipment rentals, it could have easily been prevented.
Whether you work in an A/V company, manage a venue, or run a production house, you've probably heard horror stories about equipment management gone awry. Maybe you've been in the middle of one and still shudder to think about it. Lights promised to a client are booked on another event. Mics thought to be in good shape are actually wheezing their last breath.
These are examples of breakdowns in communication. Somewhere along the line, someone forgot to properly track the culprit! Maybe a maintenance check was missed or a piece of gear wasn't properly signed out. Or worse, there isn't a good system in your organization for tracking your stuff and eliminating these mistakes in the first place.
Whatever the case, here are six quick things you should start doing immediately to better track and manage your equipment.
1. Determine Availability
"Can I have it?" One of the first rules of inventory management: you need to be able to answer this question at all times during the event planning process. A client may ask on a site survey. An event planner could ask during a load in. Every time a piece of gear is committed to an event, it should be noted in a master list for every other person in the space to see. This way, you can set proper expectations when building a needs list.
2. Be Proactive
Clients may not tell you right off the bat that they need a certain piece of equipment. Example: you stock a projector in-house. The client knows this but doesn't initially ask to utilize it. Now he or she shows up on site with some changes to the plan and asks for it, thinking, "It's in your inventory, it must be available." But in the intervening time it's been loaned out for another gig. Yikes.
While you can't completely prevent this scenario from happening, you can mitigate the drama by building in some basic "request rules" early on. Instruct clients to request and reserve gear in advance. Work with them and be transparent from the beginning. Let them know that if they don't, you cannot guarantee its availability later.
3. Assign Responsibility
No matter where your equipment is being used, someone needs to be responsible for it. In a venue, this may be a single person. In a rental shop or company that deploys lighting, audio, video, or other technology to many different sites, this could be multiple people. Every event should have a member of your team ensuring it's safe handling, care, and return.
4. Schedule Unavailable Time for Maintenance
Even the most durable equipment wear down. If your job to anticipate this happening and fix it before it breaks for good. This mean don't wait for holes in your event schedule that may never come. Let the needs of the gear dictate when you do maintenance. You wouldn't keep driving your car dozens of miles after your "Check Oil" light comes on, would you? So why push back the care of your equipment? You want it to last for as long as possible not just till the end of the next event.
5. File Inventory with Your Insurance Company
As painful as it is to admit, there will come a time when a piece of equipment goes missing after an event. Hopefully, that's as serious as it gets. But even the smallest piece of equipment has value. You paid money for it, spent time and more money to maintain it, and now it's gone.
Make sure you cover your costs by filing a complete inventory list with your insurance agent. Give him or her as much detail as you can so in the instance you have to file a claim, you can get the process going quickly. Keep a record of:
Item description

Make/model

New/Used

Serial or Product #

Date and Location Purchased

Estimated Value
And update the list as frequently as necessary. Whenever you're updating the value or total size of your gear stock, get a fresh copy to your agent.
6. Automate Your Tracking (When Manual Just Won't Cut it Anymore)
These days, there are plenty of solutions to help log, track, and manage your equipment. Spreadsheets, scan-based systems, asset tracking products, and event management platforms like Propared can all help you better monitor your inventory. Only you know the best system for your needs. As your inventory or deployment grows, you might need a more robust, tailored solution. But if you're managing a small in-house collection, such products may be too complex. To determine what's best, ask yourself the following questions.
How much time do I spend logging, updating, and distributing my equipment list?

Is the time I spend keeping me from doing other tasks that are critical to my company or venue?

How much gear to I have to keep track of on a regular basis?

How many people have to track and manage gear with me?

What is my budget for internal process improvement? (i.e. software products, hiring, etc.)
Use this exercise to determine your overall job responsibilities. If manually maintaining your inventory is beginning to eat up to much of your time, you might want to consider automation solutions.
By now, you should have a clear sense of what gear you have, where it is, who's responsible for it, and how your process for tracking it is working. Remember that the key goal is always to help your clients, event planners, and production managers execute flawless events. Start with a systems that truly works.
How do you keep track of your event inventory? Share your tips in the comments below.