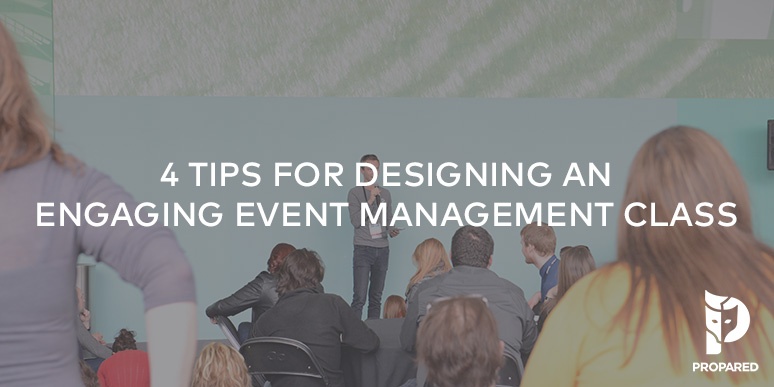 "For the things we have to learn before we can do them, we learn by doing them."
Aristotle must have been an event planner. Or stage manager. Or production supervisor. Or at least worked part-time in events. How else could one explain his assessment of the industry so succinctly?
If you happen to be the one in a leadership position, you're the one shepherding young professionals along. This mentoring is part of your responsibility. Sure, your first job is to execute the event. But a close second has to be train and nurture young staff. Not just because it will help you grow your event business. But because that's the world in which we work. Those that preceded you did it for you. Now it's your turn to pay it forward.
There are a lot of ways to do this besides just being a guide on site. One of the most fun and rewarding ways is to design and teach your own event management (or: insert your speciality here) class. Through conferences, educational relationships, and referrals, there are more avenues than ever to share your experiences with the next great crop of planners. Over the last few years, I've had the opportunity to present at a variety of institutions and I've learned a lot about the educational process in our industry.
Disclaimer: I'm not a teacher by trade. But in 15+ years of managing events, I've picked up a thing or two. The challenge was finding the right way to communicate this information outward. I've made some mistakes and had some great successes. Here are a few of my biggest takeaways when preparing to teach a class.
1. Get SMART
Once you decide on your area of expertise, you're only halfway there. Each element of producing an event is complex and dense. You could spend the entirety of an hour or two simply discussing safety practices for using tents. So don't try to cover everything.
As a manager, you likely set goals for your events. Do the same for your teaching. It might be a good idea to run through a basic SMART goals exercise prior to building your materials. A SMART goal is one that is specific, measurable, attainable, relevant, and time-bound. What do you want to communicate to your audience? Can it be realistically done and measured? And does it align with your overall goals for teaching in the first place?
Here's a suggestion to set such a goal. Focus in on a particular challenge or aspect of the management workflow. Just one. For example, at one of my recent classes, I framed the entire seminar around the unique scheduling challenges when managing a festival. As opposed to a single event. Believe me, there was more than enough material to cover. And I still found myself cutting stuff out.
If you find you topic is thin, or your material is short, then you can expand. Or not. Remember that you're going to want to engage your students, not just fill the air. Once a good healthy discussion gets going, time will fly awfully fast.
2. Find Common Ground
I have vivid memories of undergrad. On more than one occasion, someone actively working in the industry would come and speak with us. There we were, a bunch of 18-year olds getting 20+ years of experience and advice laid out on a platter for us. Some of it stuck. Some of it made an immediate impact and begin to shape my way of thinking. The rest of it? Well, let's just say that it wasn't until years later that it all clicked. Oh, and after having made the very mistakes I was warned about.
As a teacher, it's tough to find the starting line. Audience attention span has been clocked at anywhere between 5 minutes to a whopping ten if you're lucky. So it's no wonder that presenters stress over having a strong opening. You want to stretch their attention as long as possible!
Why not open with a point of commonality?
Attendees understand your role. You're there as an expert or someone highly qualified to speak on a topic. Otherwise, why would you be there? Accepting this premise allows you to shift from leading with the most powerful element of YOUR material (don't worry, you'll get there). Instead, lead with the most powerful element you all share. If you are presenting on new trends in event technology, can you empathize with your audience on information overload? Or point to tech they've already adopted without even knowing it? Even if not directly relatable, you'll be surprised how much this effort can endear you to an audience.
In other words, no need to puff up your position as subject matter expert. Everyone gets it. To that end…
3. Lecture with Measure
There is a time and place for lecture. But studies show that lessons delivered using a single, static technique are drastically less effective than those that employ a variety of methods. Multimodal learning, as it's called (learning through a variety of methods and techniques) improved average student scores anywhere from 9 to 32 percentile rankings. This included both interactive (simulations, real world experiences) and non-interactive (reading text and lecturing) learning. Pretty sizable difference.
So much of the work at an event is accomplished through interaction. I've found in my classes that group discussion increases audience engagement. It gets them thinking more holistically about the challenges and questions I present. But don't just wait till the end. Blend your discussion throughout. Research published by the Association for Psychological Science shows that interweaving techniques and problems with practice and application was one of the more effective ways to encourage retention.
One caveat, however: being a discussion moderator is a lot tougher than being a lecturer. You need to focus the conversation, provide prompts where appropriate, and address issues that might be outside the scope of your class. All while being respectful of the students who raised them. It's much easier to lose sight of your goal when you let go of the reins a bit. Call up a few friends and ask if they'll be guinea pigs. Get a sense of the direction an interaction can take before showing up and just winging it. You want to be invited back, right?
4. Leave Your Ego at Home
There's a validation in teaching. Or, I should say, there's a validation in being invited to teach. Someone else has recognized the work you've put in over the years. And your experiences are worthy of an audience.
Have you allowed yourself to enjoy that warm and fuzzy feeling? Good, now forget about it. It's not going to help your presentation.
No matter what you've seen or done, there will be someone in every room who has seen or done something you haven't. And that is fantastic! It means you are still learning, too. So don't just approach a class as an opportunity to instruct. Approach it as an equal opportunity to learn.
I've had some of the most rewarding discussions with some of my attendees. They provided me much more valuable content than I could have possibly come up with on my own. They helped me to refine my classes for the next time I teach. They even gave me new ideas for how I might approach parts of my business.
Stay humble. Stay human. Your audience will appreciate your efforts all that much more.
Teacher. Mentor. Educator. Guide. These terms may not be part of your job title but they are some of the most important roles you will play as an event professional. Find something of value that you can share and then work with your audience to refine it and make it better. Before you know it, you'll have designed an event management class you'd want to take yourself. Now you're really paying forward.
Event managers – what is important to you when presenting or teaching? Share your thoughts with us in the comments.