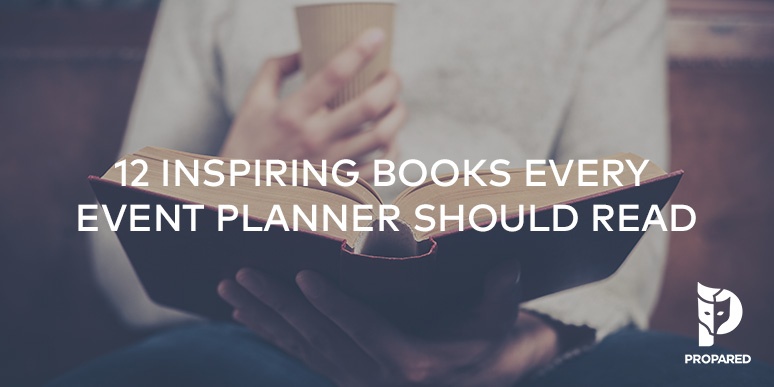 These days, to be a successful event planner, you need to have a pretty broad set of skills. You need to be creative and strategic. You must understand how to manage logistics and analyze data. You create unique experiences that are memorable and engaging but must still be able to measure their impact when they end.
There are many ways to boost your knowledge: attend industry conferences, network with fellow planners, enroll in specialized training courses, or curl up with a really good book.
There are dozens of well-written books that can help you become a better planner. And several of them aren't about event planning at all!
Here are 12 of our favorites every event planner should read. They'll help boost your creative thinking, while making you think more strategically about your decisions. We've also included links to each book in case you want to add them to your shelf (virtual bookcases count, too). When you're done, you'll be ready to tackle any event that comes your way.
This terrific book by two of the leading voices in meeting design is a must read for any meeting or event planner. Eric de Groot and Mike van der Vijver rightly approach the topic as a fundamental human experience. Meetings are not excuses to share information, they are opportunities for people to connect with one another in a deep and meaningful way.

It's nice to see a psychological and emotional approach to audience engagement. It allows planners to begin thinking about event personalization, a concept driving today's experiences. And with several real life examples, you'll have plenty of ideas to spark your next project. 
If "Into the Heart" explores the human element of meetings, this terrific read is the nuts and bolts of making events happen. Author Judy Allen should know; she's one of the leading event planners in the world and this comprehensive book covers everything.

From initial planning all the way through closing and debriefing an event, Ms. Allen addresses each piece with great depth. Her sample event planning checklists and budget worksheets are terrific. Her thorough approach helps you ask clients and vendors the right questions. Even questions you hadn't thought to ask!
Ever wonder what's it's like to run one of the most successful and creative studios of all time? Ed Catmull can tell you. As President of Pixar, Mr. Catmull has steered the studio to an unprecedented series of successes, both critically and financially. And he has done so by empowering his team and encouraging their creative spirit.
Event planners can't do it all. They rely on so many other collaborators to execute a project. This book will inspire you to lead with humility and invest in the people around you. A good idea can come from anywhere and the best way to start is by placing trust in your team.

David Allen's book on organization and productivity might just change your life. And not just work but home as well. "Getting Things Done" is more than just a love of checklists. It's a way of approaching every aspect of your life with a simple question: is this idea of mine actionable?

What's especially helpful is the emphasis on eliminating stress. You juggle thousands of details. It's easy to get overwhelmed. Mr. Allen's system counteracts those tendencies, providing steps to make your event planning checklists seem more manageable. In the most recent edition, he provides a ton of great tips on how to stay productive in our "always-on tech world."
If you've dabbled in the corporate world, you've heard of Michael Porter. The world-renown Harvard professor and consultant has written two of the most influential books on strategic business planning and industry analysis.
"Strategy" lays the foundation for how to analyze a market, identify competitors, and position your brand for success. "Advantage" then offers a playbook for how to execute your strategic plans and stay on top. If you own or run an event planning business, these are must-reads.

Few authors do a better job at introducing readers to the world of event production than Dr. Joe Goldblatt. His "Special Events" textbook, now in its 7th edition is a wonderful companion for the aspiring event planner.
Worth noting is his focus on "event planner as leader." The better the leader, the more likely you are to foster deeper relationships and deliver superior results on time and on budget. New and experienced planners can also find great resources that address some newer challenges in the industry, from marketing and technology to increased risk and event security.
As an event planner, do you ever think of yourself as an architect? Maarten Vanneste suggests that the future of meetings may demand a new role, with new skills, to help drive better ROI and engagement for attendees. And he makes a pretty strong case.
One of the things I particularly like about Mr. Vanneste's tome is the idea of making logistical choices not out of necessity, but rather by design. It's an interesting way of working the creative directly into the planning of your events, instead of designing around your limitations. 
To be an event planner of the future, you're going to have to think outside the box. This means not just employing the latest event tech but using it in new and creative ways. To really take your creative spirit to a higher level, do yourself a favor and read Keith Sawyer's fantastic book.

Mr. Sawyer has designed a simple, easy-to-follow process for getting unstuck and practicing creative thinking. I really responded to the notion of creativity as a way of life. These are techniques that you can use in work or at home, in a hobby or on a project. And the more you commit to leading with your creative mind, the more dynamic your ideas will be.
Building a successful restaurant is hard. Really hard. Estimates put the failure rate around 60% within the first year of business. So how does Danny Meyer end up operating 9 successful restaurants, a catering/entertainment company, and a consulting business? Read his engrossing book to find out.

Mr. Meyer was a pioneer in improving the guest experience in restaurants, insisting that great food was not enough. By focusing on superior customer service, he's established himself as a foremost expert on building client relationships that last. On a personal note, I've been happily eating at Danny Meyer restaurants for 10 years and never had a bad experience. 
Ever feel stuck at work because your desk seems too messy? Or have a hard time establishing good habits because you just work such weird hours? Then Fay Wolf can help. Her quirky yet extremely practical tips on decluttering your space (and mind) will help you focus and find clarity at home and work.
Another disclosure: I happen to know Fay personally but setting my bias aside, I'm happily writing this from a clean workspace thanks to her guidance. 
Last but certainly not least is the data book every event planner needs to read. Events are marketing efforts. And they need to be measured. Not just for an individual client but for the industry at large. Planners must be able to justify the importance of their work in real, tangible ways that positively affect bottom lines. 
Jack Phillips and his co-writers have provided a simple, step-by-step methodology that not only explains why measuring ROI is important but how event and meeting planners can do it. Applying this book's methodology will change the way you look at the decisions you make on your projects.
Got another book to add to this list? Leave a comment and share! Happy reading!