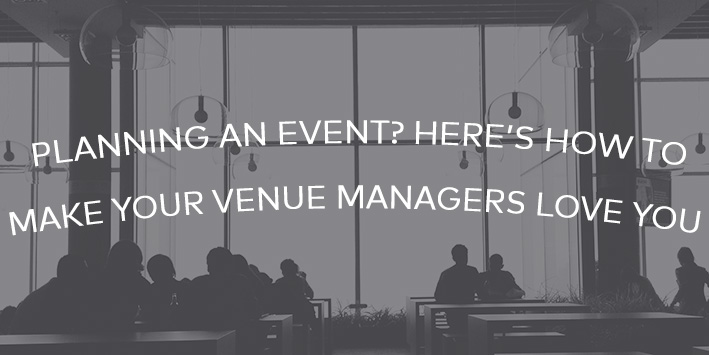 As an event planner or a production manager, your relationship with the venue manager is incredibly important. Often times, they are responsible for just as many moving parts as you are. But unlike you, they are married to their spaces. Especially if their spaces are in demand, they meet A LOT of planners and managers. Like it or not, that means how you conduct your business gets weighed against every other planner out there. Having them on your side can make you look EXTREMELY good in the eyes of the client. It might also lead to other referrals or opportunities, especially during the busy holiday party season. You never know how other professionals may be connected. Every project is a chance to grow your business.
Recently, I sat down with Leahann Miller, a veteran venue manager from New York City. She's currently the acting Events and Catering Manager at Barney's New York, responsible for managing all in-store events. Yesterday, she shared some thoughts on how you can make your space standout. Today, she offers some tips for event planners to make the people who run the venues your new best friends.
COMMUNICATION IS KEY
As an event planner or production manager, you are often the crux of information flow between the venue, the client, and any outside labor. If at any point, you are leaving the venue manager out of the loop or making decisions that affect him or her without consult, you may find yourself in a tough spot. Here are some examples.
1. Last Minute Changes
Changes take time to address and affect many other elements. Even small gatherings have intricate plans and details. Think about all the things the venue might need to know and understand the ramifications of making a last minute change. Is it absolutely necessary? If so, know that you are making a request and that this can be granted at the venue's discretion. Coming across as demanding or entitled (even if that's the energy you're getting from your client!) isn't going to help your case.
2. Guest List and Presenter Modifications
This is pretty common. People cancel, or the client needs to add more invitees. Or maybe another speaker has been added to the lineup. While venues are adept at handling these adjustments, they still have ramifications. Table setup, meal counts, and staffing may need to be adjusted. You may have additional A/V needs and seating for the stage. It is in your best interest to work with together to tackle these challenges. You both have the same goal: the client to walk in and be wowed.
3. Food/Menu Changes
Again, not an uncommon request for a venue. In many instances, the venue is also providing the catering and are well-versed in all manner of changes. Still, it's food. It requires prep work, anticipation, and timing. If you delay the 1st course by 10 minutes because some of your client's VIPs are running late, try not to inform the manager 1 minute before it is supposed to hit the tables. Cold food may ensue and now everyone is on the hook.
THE SOLUTIONS
There are some best practices you can employ to best stay on top of this information flow. Here are some favorites.
1. Schedules, Schedules, Schedules
Make sure everyone has an up-to-date copy of the setup schedule and run-of-show. AT ALL TIMES. If a change is made, get an updated copy sent immediately to the venue contact with changes noted. On complex projects when lots of changes are happening, you may want to send out nightly updates of the schedule.
2. Don't Neglect Breakdown
It's surprising how often this is overlooked. Don't do it. The gear you rented, the space you booked, and the crew you hired haven't become any less valuable over the course of the event. So why treat breakdown with less care? Free-for-all's can lead to mistakes, maybe even damage. That's a quick way to get on a venue manager's bad side. Often times, there's only one door or loading dock that everyone will be trying to use at the same time. Do your homework and see your event all the way through the end.
3. Some Other Quick Tips
Give the venue the ability to talk with the client so everyone is on the same page. Not because they don't trust you. Quite the opposite. A venue rep is trying to support your understanding of the scope of the event. Better to have both of you hear the same requests from the client so as to be able to back each other up in case of a problem. If you communicate one thing and the client insists he or she demanded another, to whom is the venue manager likely to defer?
Lastly, a thought about booking. If you call a venue to put a soft-hold on a date, make sure you call back to release it if you decide to hold your event elsewhere. These holds, while totally common, are still a courtesy extended to you. Nothing drives a venue crazier than waiting for a confirmation, one way or another, that never comes.
Venue managers can make the best partners in the business. Love them, respect them, and they will make your jobs easy. And make you look pretty awesome in the eyes of the client. Now go forth and make some connections!
Event planners and production managers – how do you cultivate relations with venue managers? Share some of your expertise in the comments below.