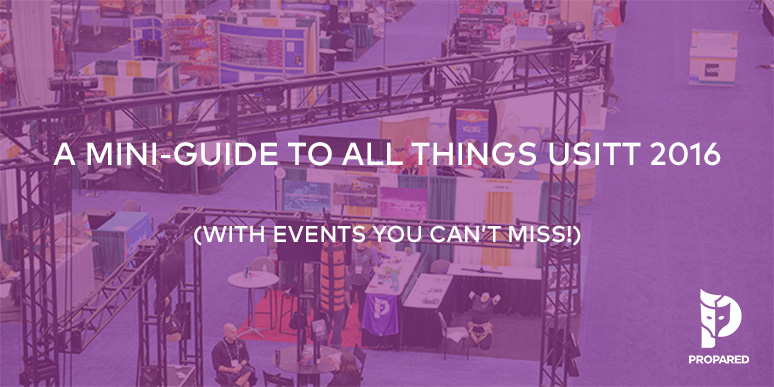 The 2016 installment of USITT is finally here! For those of you who've never attended or are thinking, "Umm, what's USITT?" let me explain. According to its website, The United States Institute of Theatre Technology is "the largest full production event in America." That means event production gear and a lot of it. Once a year, the organization hosts its three-day trade show and conference (Salt Lake City). Attendees can choose from a litany of exciting engagements including classroom training, new technology exhibitions, certification programs, and networking at special events. We on the Propared team have been attending USITT for years. Long before we were even a company! It's a special time of year that reminds us how many talented people are working in events and entertainment.
We thought it might be fun to put together a little compendium for this year's conference. One part mini-FAQ, one part recommendation for can't miss events. Enjoy!
FAQ
1. What is USITT?
Well, this one we kind of already answered. Suffice it to say, USITT is what we would call a "full production scope" conference. Imagine you were putting together an event. Think about everything you need; management and design software, lighting, audio, video, backdrops, furniture, seating, etc. You could find it all here. This is the conference for production teams, ensuring they have everything they need to create extraordinary experiences for attendees.
2. Who should attend?
Anyone who works in events. Really? That broad? Yes. With technology moving forward at such an accelerated pace, events are getting more and more complex. It means that even having a passing understanding of how all the pieces work can make you a much better planner and manager. Here are just a few of the fields that USITT attendees work in.
music
touring
corporate
festivals
theatre
worship
nonprofit
university
dolphin training
3. What if I'm a student?
Yes yes yes! Think of USITT like a master class series. The three-day conference is a perfect blend of career networking opportunities and training sessions that can give you a leg up as you enter the professional world. We've listed out some classes we recommend attending below.
4. Where can I get more information?
Everything show-related can be found by visiting the conference website. You might also consider becoming a member of USITT, gaining access to discounts, promotions, and various industry-related programs. Be sure to follow the conference on Twitter by searching the #USITT and #USITT2016 hashtags as well.
RECOMMENDATIONS
Let's get the shameless plug out of the way. Propared will be exhibiting for the third year in a row and we're excited to show how we can provide tools to help the production management professional. We'll be at Booth #832, come say hi! Okay, plug done.
Over the years, we've had our fair share of giddiness over new products on the floor. But lately, we've been really jazzed by educational opportunities. As mentioned before, with so much changing in the industry so fast, we really applaud those educators and professionals stepping up to provide insight on to navigate event production better. We've combed this year's (HUGE) set of classes and workshops and come up with a handful that really stood out. All the individual class details, including schedule information can be found by clicking on the "More session info here" links.
1. Transitioning into Production Management
From the course description: "Do you want to go into production management but are not sure what you need to know or how to make the switch?  Many people from stage managers to technical directors to lighting designers and beyond make the transition all the time.  Get some tips and guidance from two people who did just that and live to tell the tale."
2. Risk Assessment in the Entertainment Industry
This is the first of several classes that piqued our interest regarding emergency procedures, contingency planning, and building a culture of safety.
3. Financial Pitfalls for the Freelancer
A topic very near and dear to our hearts. Being a freelance technician or event manager actually means being your own business. Get some tips from some accounting professionals on keeping your personal finances buttoned up.
4. Emergency Procedures 101 – Developing Emergency Plans
This is base-level, important stuff. Every manager needs to know how to build emergency plans before executing any events.
5. Emergency Procedures 102 – Application of Emergency Plans – Facilitating Drills
A great one to attend in tandem with the previous. Building the plan is only half the job. This class will talk about implementation.
6. The Emergency is Over. Now What?
If #4 and #5 were the first two steps in emergency planning, this completes the trinity. Post-mortems help youdetermine what you learned, why it happened, and how it can be prevented in the future.
7. "Great Expectations" – Setting Goals and Achieving Them
The event industry can sometimes play out as gig-to-gig. This session will focus on long-term planning for a more sustainable career.
8. Women in Theatre Roundtable
Another topic very near to our hearts, featuring some of the leading voices in the production management industry. Everyone should attend this one!
9. From Commissioning to Operation: Steps in Getting your Performing Arts Building Up and Running
An interesting session, especially for venue managers, entrepreneurs, and anyone involved in the inception of an arts/production space.
10. Safety Orientation – Introducing Venue & Crew
We told you we were a little obsessed with the safety stuff! This session looks great for helping you build your own checklist for any time you encounter a new venue.
We hope this is all helpful! See you on the show floor!