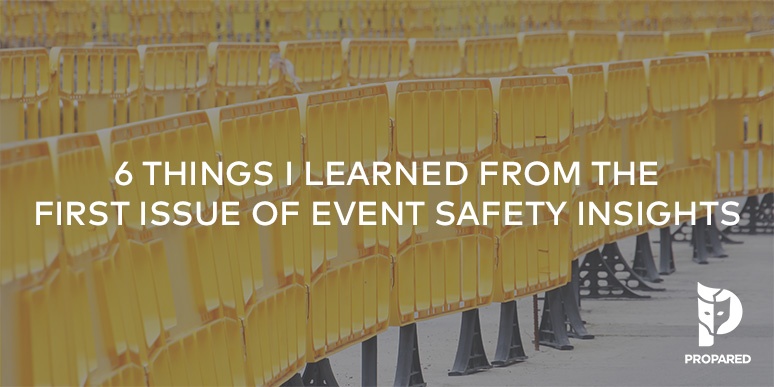 While the application of new event technology is a top priority for most planners and organizers,  attendee safety is paramount. From addressing potential terrorist threats to weather procedures, from securing personal data to managing complex new event tech systems; there are more risks for planners to tackle than ever before. You are going to need some help.
That's why the recent launch of Event Safety Insights (ESI), a publication of the Event Safety Alliance (ESA) is so exciting. The new quarterly publication promises to, "provide readers with the latest safety-related news, features, practices, and technology from the across the live event industry." The first issue, published just last month features a wealth of information you can apply no matter what kind of events you produce. In fact, after reading it, I immediately went to my production team with ideas on how we could improve our own safety procedures.
It also got me thinking about other resources floating around that could help organizers plan safer events. Here are 6 of my biggest takeaways from ESI's first issue, as well a few other resources you should check out.
1. I Learned Some of the Biggest Missteps in Weather Preparedness
While event tech is great, it shouldn't replace human judgement and planning. Translation? Don't rely on an app to make severe weather decisions! Access to weather data is great, but it's not enough. Planners also need to have the training and expertise to apply the data to their situation and act on their plans.
Plans can be simple and flexible; a risk matrix that could match weather conditions to contingency plans for each department. But it's your well-trained people, not your app who'll be the ones executing your plan and managing guests.
2. I Learned How to Spot Signs of Heat Stroke
Did you know that extreme heat is the number one weather killer in the United States, averaging 180 fatalities per year? Yet heat stroke is often overlooked in safety planning. Thankfully, we here in the US are transitioning out of the hottest months. But this could pose a problem for our planner friends in other climates or regions.
In fact, it doesn't even have to be a scorching day for a guest (or crew member) to suffer heat stroke. Unlike many other more visible types of severe weather, extreme temperature affects everyone differently. Event organizers need to know how to spot the signs of potential heat stroke and be prepared at the venue with information for how to treat anyone experiencing symptoms.
3. I Learned That if You're Producing an Outdoor Event, Hire a Meteorologist
See #1. The key here is to combine event tech that provides detailed forecasting with a professional's ability to interpret the data and help you draft plans. The National Weather Service has lots of resources to help you get started.
4. I Learned How to Handle Evacuations in Case of Lightning or Other Severe Weather
Kudos to Dr. Kevin Klosel for his comprehensive 8-Point Lightning Safety Plan. Among his many insights, this one in particular stood out: timing. Simply having an evacuation plan is not enough. You need to know how long it will take you to execute the evacuation. This has serious implications on how and when you act on triggers. Your guests need to be escorted to safety before the bad weather actually strikes.
5. I Learned Everything ESA is Now More Affordable!
I attended the Event Safety Alliance's Annual Summit last year and come away with amazing insights on how to better run my business and my events. I've also become a bit of a de-facto evangelist for them, as you're likely to find me talking them up if I get the chance.
Well, ESA has dropped the cost of pretty much every awesome benefit they offer, including the annual membership fee into ESA (more than 50%!), registration pricing for the annual ESA Summit, and more. You can read all about this "Event Safety for All" initiative here.
6. I Learned About Some Exciting New Upcoming ESA Classes
What better way to improve your understanding of event safety than to learn from the best? ESA announced plans for additional iterations of its core safety training program, Event Safety Access, as well as online versions of the program set to debut in early 2017. ESA has also announced new class initiatives at this month's LDI Summit, specifically looking at weather decisions, evacuations, and event medical services.
Other Resources
The official site of The Health and Safety Executive of the UK. Lots of links, publications, and general guidelines on safety procedures for events produced in the United Kingdom.
We've actually published our own weather contingency document, based off of what our sister production company (Tinc) uses for its events. And it's totally free to download!
How about some event tech? WeatherOps is one of a few really comprehensive apps that can help inform your weather decision-making.
Before you can build your contingency plans, you need to know what risks you're likely to face. Everest Insurance has put together a nice checklist to help you identify your risks and prepare to combat them.
Back in December of last year, we published a series of articles looking at different safety practices (i.e. using special effects, tents, etc.). Check them out and let us know what you think!