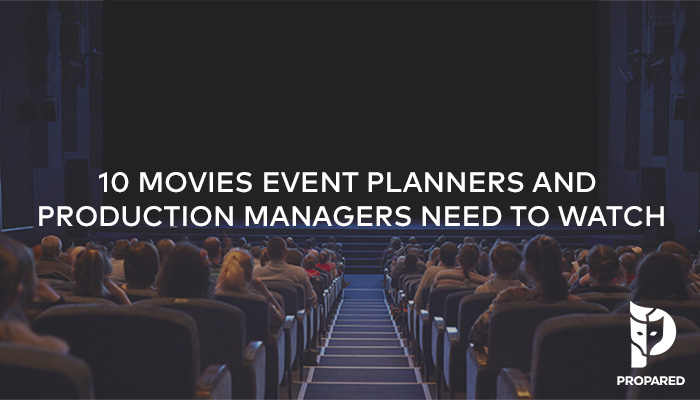 For the number of events that are planned every year, there are shockingly few films that get into the nuts and bolts of how they get accomplished. Why? There's certainly no shortage of movies that feature large events. Weddings, parties, trade shows, music festivals, conferences; without thinking too much about it, you could probably name a dozen or more films in which the main characters attend one or another.
Here's the good news. There are some terrific movies that, though they might not be specifically about the event world, perfectly highlight the responsibilities of event and production managers. Responsibilities such as logistics planning, teamwork, and communication.
Some are ridiculous, some are painful. Some aren't even about events the way you might think. But all of them can shed some light on how complex the act of planning an event can be.
This documentary received its premiere this year at the Tribeca Film Festival. It follows the the nearly year-long planning process of the Metropolitan Museum of Art's 2015 exhibition, "China: Through the Looking Glass." Culminating in the annual Met gala, it is an interesting dive into the event planning process, showcasing how many decisions must be made in order to execute a large-scale event.
Who doesn't love a good documentary about the making of a film? Especially if that film implodes? The first of two such entries on the list is a powerful and sometimes uncomfortable look into director Werner Herzog's attempt to make "Fitzcarraldo," an ambitious film about "one man's attempt to build an opera house in the middle of the Amazon jungle" (Criterion). It is a fascinating, cautionary tale about how an unwavering commitment to artistic vision can sometimes butt heads with the realities of production.
If you do any kind of wedding planning, you've probably heard of Yoshitaka Nojiri. The famed Japanese wedding planner rocketed to fame in the early 2000s and now his company, One Heart Wedding estimates it produces some 17,000 weddings annually. This documentary, first screened at Cannes in 2014, follows Nojiri as he built his company and explores the important details he and his team focus on when planning events.
Events are better with good food, right? This funny and poignant film from Campbell Scott and Stanley Tucci pays homage to the joy and importance of a well-crafted meal; how it can bring people together, generate conversation, and create memorable gatherings for guests. The penultimate scene, which lends the film its title rivals even the best catered, sit-down event.
You want to talk logistics planning? This is the pic for you. Director John Sturges' critically acclaimed film tells the true story of Allied POWs, with a knack for escaping captivity, and an attempt to execute their biggest prison break yet. From creating fake IDs, to digging tunnels, to organizing transportation, this film is a masterclass in how to build even the most intricate of plans.
Event planners and production managers often turn to third party vendors to provide specialized services. This seminal documentary about one of the world's most famous bands should make you think twice about who you hire. In 1969, the Rolling Stones gave a free concert at Altamonte Speedway, CA. The security for what was to be the "Woodstock of the West?" The Hell's Angels. Needless to say, it did not turn out to be the peaceful, free-love event everyone thought it would be.
From the backstage drama, to the pre-show mixer at the hotel, to the party at Sherri Ann Cabot's (Jennifer Coolidge) mansion, to Fred Willard's hilarious play-by-play announcer at the dog show itself. There is so much to love about this movie, it's hard to know where to start. Sit back, relax, and enjoy the cavalcade of crazy characters who, when you think about it, you've probably met at your own events before.
The second entry of a "film about the making of a film." Terry Gilliam (Monty Python, Brazil, 12 Monkeys, Fear and Loathing, Baron Munchausen) wanted to make a movie about Don Quixote. But not just the story of Quixote, a wildly imaginative, risky time-travelling film as only Terry Gilliam could make. What followed was a perfect storm of accidents, bad luck, budget overruns, performer injuries, and terrible weather that forced the project to shut down before it ever really got momentum.
Honestly, there are quite a few excellent heist or con films that could be in this spot (The Sting, The Bank Job, The Italian Job to name a few). What is so great about Steven Soderbergh's Ocean's trilogy (11, 12, and 13) is the style of it all. Danny Ocean and his team are quite literally building and executing a plan that could be the difference between life and death. But the casual observer would never know. Danny's team is always cool and collected under pressure, even when the unexpected happens. Sounds like every great stage manager and event planner.
When you think about Sidney Lumet's masterful adaptation, you might say to yourself, "What does this have to do with planning an event?" If you've ever had to build consensus on a team or negotiate with a client, you'll know. It's an excellent example of how a group of people, despite their pre-conceived notions and disparate personalities can come together to make the most important of decisions. If that isn't the textbook definition of what event managers do every day, I don't know what is.
What movies would you recommend for event planners or production managers to watch? Let us know in the comments below.