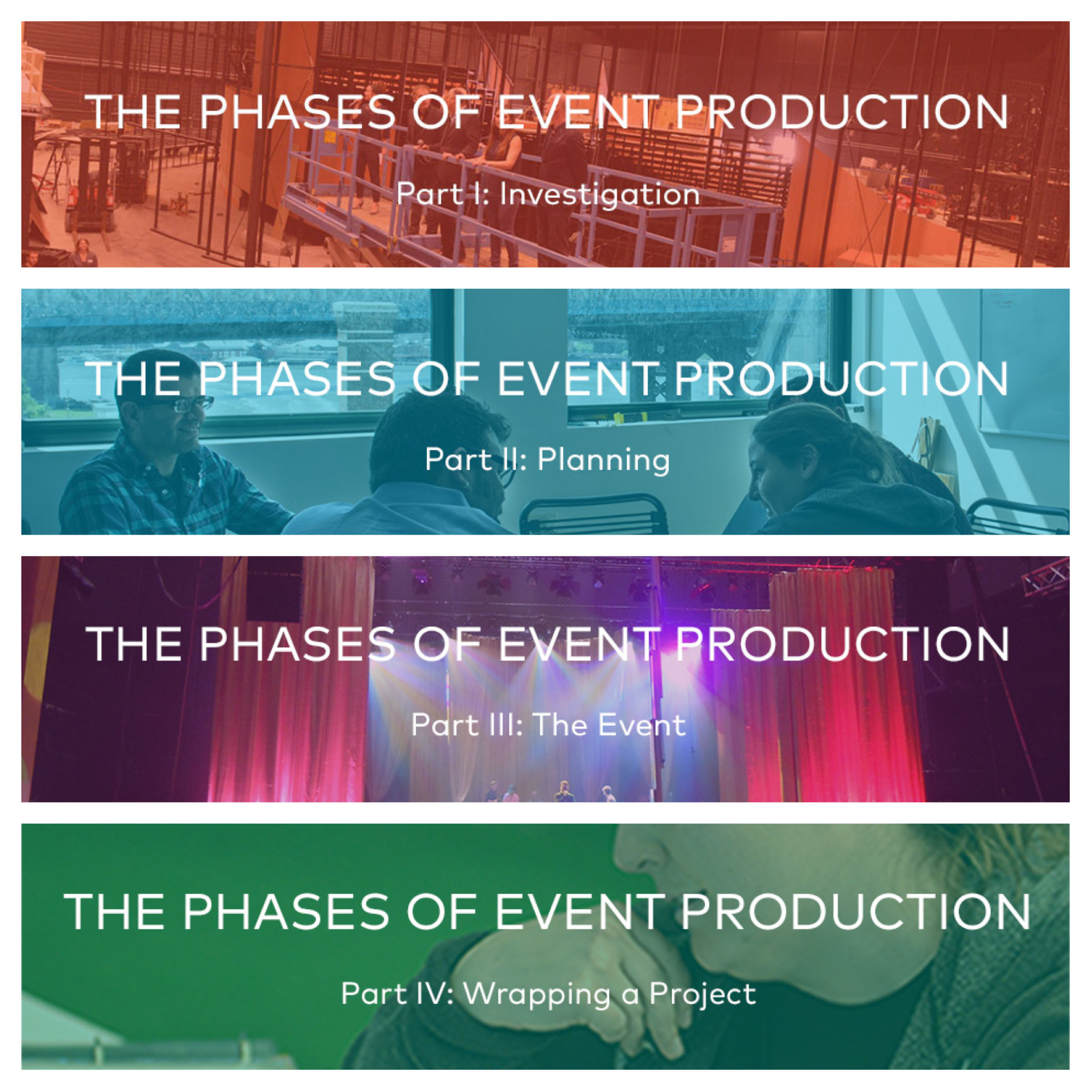 Are we already into November? The past month and a half has gone by in a blink and we're still catching our collective breath. We attended IMEX, launched a slew of new features to our platform, and were named a "Featured Event Tech of the Week" from the cool folks at TechsyTalk (thanks Liz!).
We also wrote. A lot. We wrote about tips, tricks, and tools that can help our colleagues tackle event logistics with a bit more ease. Mastering event rentals, HR for event companies, and festival management were just a few of our targets. We also produced an entire series on the main phases of event production. As we kick off the new month, we've collected the entire series and published it in an easy to navigate roundup below. We hope you find it helpful in your event work.
Happy project-ing!
No matter how a project comes to you, whether it is brought to you at the beginning or somewhere mid-project, it's critical you spend time laying some groundwork first. Why is this so important? Simply put, the event industry moves fast. Once a job is secured, we often need to go, go, go and there is always more to do than time available.  So, it makes sense that some crucial steps may be missed. These mistakes are most likely to happen during this early investigation period. By taking the time to look at the components that go into this all important phase, we can save ourselves major headaches once event production really gets going.
You've completed your due diligence and your investigation. Now it's time for for the real work to begin! Pre-production, event planning, tech: whatever you want to call it, this part of the process is the real meat and potatoes of planning an event. Your checklist for this phase will often be very detailed. This is, after all, the time to identify your needs (labor, gear, etc.) and determine where you are going to source them from. It's also the primary opportunity to address any concerns or changes coming from the client. The closer you get to the day of the event, the harder it becomes to make big changes. I like to break down pre-production into 3 major steps.
Did you sleep last night? I hope so. Today is event day and it's going to be a long one. You've asked all your questions. You've planned the event to perfection. You have backup plans and backup plans for your backup plans. The crew is booked, the vendors have their assignments, your coffee is still hot and your Über is pulling up outside your place. It's time to get to work, so how should a good event manager tackle this day?
You've made it! You pulled off a successful event and the client couldn't be happier. So your job is done and it's on to the next one, right? Not so fast. While it is important to savor the production of your event, it will not make your career. In fact, one good event is not an automatic guarantee of anything. The argument could be made that your most important work is still to come. How will you leverage your successes into more opportunities and stronger relationships and ultimately create demand for your services?
What are some of the key steps on your event planning checklist? Let us hear about them in the comments below.