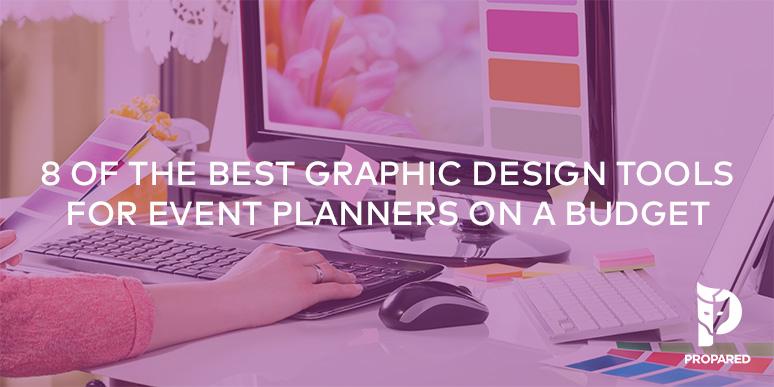 These days, there are so many design tools out there to help event planners it's hard to know where to start. What should you use for building a color palette? What's the best tool for editing images? Or finding those images in the first place?
If you're like most, you're either working on a budget, working on a deadline, or both. The good news is most of the easy-to-use tools out there are also some of the least expensive. Even free! So while we're big fans of Adobe Creative Cloud, sometimes, it's just not a practical or efficient use of your two most valuable resources: time and money.
In this post, we take a look at 8 of the best free (or super inexpensive) graphic design tools that can help inspire and shape your next event.
We'll start with the basics. Every great event has a consistent theme. And consistency is often achieved through thoughtful design. Choosing a complementary color palette helps to set the right mood and tone. It's Event Storytelling 101. COLOURlovers is week one in the syllabus.
Event planners can easily create color schemes by either selecting from 4+ million user-created palettes or creating your own. Upload pictures of designs you love and COLOURlovers will even tell you the key colors.
But the real value in using COLOURlovers is connecting to its strong community. Designers, marketers, and creative types share ideas, pose questions, and provide feedback for each other's work. Nothing helps you lock down your design better than unbiased feedback from other talented individuals.
Taking color palettes to the next level is Design Seeds. Curator Jessica Colaluca builds beautiful palettes that can be searched by photo, collection, or individual color. Each color is noted by HEX#, making it easy to find swatches that pique your interest and recreate for your own event.
I know, Pinterest is one of those sites people either love or hate. But if you're looking to brainstorm some ideas or see what your competitors are doing, this is the place. Yes, the interface can be a bit clunky, so you'll need to spend some time setting up your boards the way you want. The best way to do this is to search by topic and select "People" or "Boards" to find quality curations you want to follow. Or, search for specific designers or other planners you admire and follow them directly.
Whatever inspires you, add it. Pinterest is definitely a place to go broad. You can always streamline later. And because Pinterest is an active community with over 100 million active monthly users, you'll always find new content to kickstart your ideas.
There's a reason this tiny startup from Down Under has risen to the top of the graphic design world. Canva's simple drag-and-drop editor makes building graphics easy, even for non-designers. Users can choose from millions of existing photos, illustrations, icons, fonts, and other graphics to create some pretty slick designs in just a few minutes.
Canva also has a massive DIY community, with an active blog and its own "Design School." Typing "Canva tutorial" into a YouTube search pulls up some 600,000 videos. Plenty of support for whatever you're trying to create.
Businesses need high quality images; for websites, emails, you name it. Of course, you'd love to have your own photo portfolio from which to choose. But that can be expensive. But what's the alternative? The same old stock photos that everyone is using. How do you find photos that feel authentic and interesting?
One great place is Death to Stock. Two talented photographers got together to offer a once-monthly pack of curated photos designed around a particular theme. Oh, and it's delivered right to your inbox. You can also search and download any past image from the website so don't worry if the current crop of photos isn't your bag.
For you event planners who are a bit more comfortable with editing vector graphics but want a free alternative to Illustrator, look no further than Inkscape. This sleek bit of software is open source, meaning the creators have made it completely free for anyone to take, use, and modify.
Inkscape is great for creating logos or unique illustrations. It, too, boasts a robust support community. Noticing a trend?
Starting to wrap things up here: we began by talking about color palettes in design inspiration. But in today's tech-centric world, your digital design could be just as important to your event. Wedding invitations, emails, websites, landing pages, registration forms, surveys; there are dozens of digital documents that you might want to send to attendees. Sometimes, your entire event design can stem from the look and feel of typeface. So it better be good.
Enter Font Squirrel. This site makes it easy to sort through both free and paid font collections, eliminating the need to buy licenses or adhere to particular policies for crediting authors.
Ever read something online and thought, "Wow, I really like the look of that, I wonder what typeface the designer used?" WhatTheFont can help. Grab a screenshot of the font in question. Upload it to the site and it will compare your image to its massive online database. If a match can't be found? You guessed it. Turn to the very helpful community of designers who are always up for a challenge.
There you have it. 8 graphic design tools that you can quickly begin working with. In no time, you'll be designing events that are unique, inspired, and well within your budget.
Event planners, what other graphic design tools do you recommend for those working on a budget? Share them in the comments below!