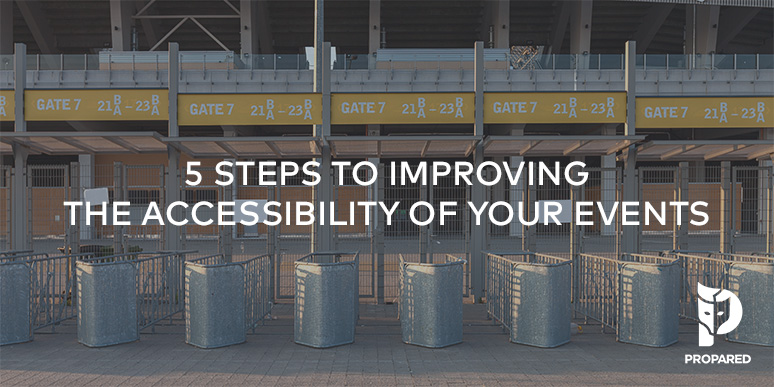 The big buzz in live events these days is how to make them more interactive. How can advancements in event technology spur deeper attendee engagement? How can new data on audience behavior lead to better decision-making and more custom-tailored events?
As exciting as this is, it often overlooks a more fundamental topic that needs to be addressed; one that has just as if not a more immediate impact on engagement and interaction.
Accessibility.
In a study published last year, the CDC found that 22.2% of U.S. adults reported some form of disability. What does this mean? That roughly, 1 in 5 of the attendees navigating your event could be experiencing some form of permanent or temporary disability. That's a lot of people. And if you're building an event without these attendees in mind, you do so at your own peril.
It is an event manager's job to ensure that every one of our guests can participate, enjoy, and engage. This means designing to accommodate all manner of physical, emotional, and psychological disabilities. While every event is different, here are 5 steps you can take every time to ensure you are being sensitive to all.
1. Learn the Basics – Law and Requirements
The most important thing you can do is educate yourself. Do you know what it means classify someone as having a "disability?" It might be broader than you think. As defined by the Americans with Disabilities Act(ADA), people can suffer from visual, hearing, cognitive/hidden, or mobility disabilities. And there are legal and non-discrimination clauses that protect them. They need to have access to "the same goods, services, facilities, privileges, advantages, or accommodations that are provided to other members of the public."
This means your event. When planning, ask yourself if it in any way restricts some group from attending based on a type of disability. Venue, travel, housing, lighting, sound, etc. If any element is restrictive, how can you adjust it to be more accommodating? Don't think of it as a hinderance. Get creative!
2. Train Your Staff
Understanding, compassion, patience. The three pillars of a helpful, attendee-focused staff member. Whether outsourcing or pulling from an internal team, it's your job to instill this approach in everyone on the show floor.
Are there established rules? Sure, every event needs a bit of order. No one wants a free-for-all. But sometimes, you need to know when to skirt those rules to deliver the best customer experience. Is your catering buffet-style? What if a guest, for whatever reason cannot participate in this service? Does your staff feel empowered to go make a plate on his or her behalf? They should.
Train your team to approach each guest without preconception. Many disabilities cannot be seen. Encourage your team to explore basic disability training so they feel comfortable approaching guests.
3. Provide Resources for Attendees
Preparation is key to improving your event's accessibility. This means thinking clearly through each part of your show and assessing the experience of any guest, disabled or not. Suppose your entry and registration is very accessible. But once inside? Nonstop strobe lighting. How will autistic guests, or those prone to seizures react? Elements should be reviewed one by one, as there may be different solutions for each. Many event tech solutions are addressing such concerns. Explore them.
The ADA National Network has put together a fantastic checklist that both summarizes the law and offers suggestions for making your events more accessible to attendees with disabilities. And when in doubt, simply ask your guest!
4. Provide Resources for Caregivers
Accounting for caregivers and their needs is just as important as providing resources for disabled guests. Provide logistical information and assistance before the event, as caregivers will often research well in advance to determine which events are accessible and accommodating for their charges. Highlight building measurements, access and egress, details on assistive devices, event schedules, and contact information in case of special circumstances.
Put yourself in their shoes – imagine what it must be like to make the decision to attend even a single event. By providing them a bevy of resources to help their decision-making process, you are signaling that you have thought carefully about the best possible attendee experience for everyone.
5. Accessibility isn't Just About Accounting for Disabilities
Making an event accessible means different things to different groups. We've highlighted the most common and that which deal with legality. But what about other, personalized touches that can have a serious effect on a guest's experience?
What about nursing mothers? Children (if it's an all ages event)? Overweight guests? Guests who do not speak your language? Even small efforts you extend to let them know you are thinking about their individual experiences can have a profound effect.
There are many people that don't go to events because they perceive them to be inaccessible. They worry that certain services or needs won't be met and they'll be left to side, unable to experience the activities alongside other attendees. It's up to you to assuage this fear. Design your events broadly and think carefully about each person's experience. Give all your guests the confidence that you've prepared for their participation. No matter their individual needs. By increasing the accessibility of your events, you might actually increase your attendance, your brand (and client's brand) visibility, and certainly tick the "interactivity" box.