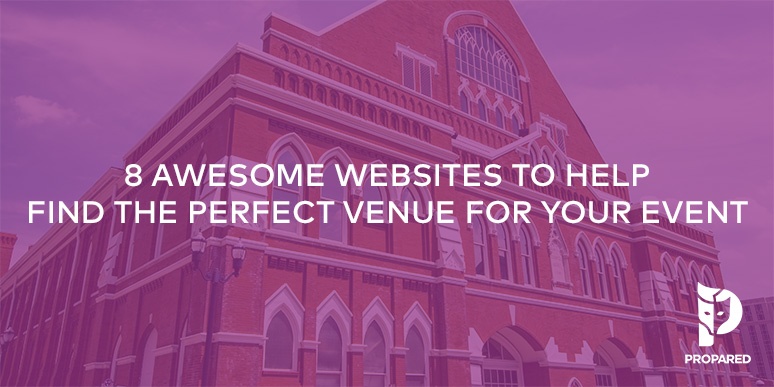 Few decisions are as important (or as stressful) as choosing a venue to host your event. It is both the backdrop and setting for every element; catering, design, guest accommodation, travel, even the basic technical capabilities of the space. The venue is going to be your home from the moment you ink a contract to the moment the last guest steps out the door so you better love it.
Here's the problem: there are literally tens of thousands of unique venues to choose from. You probably don't have time to research them all, especially if you've got other projects. Thankfully, these eight terrific websites can do the heavy lifting for you. Once you've settled on the basics like where and when, these venue finders can drastically speed up your decision-making process.
For this blog, we focused on sites that primarily serve the US market. We'll tackle international sites in a future post. For now, sit back and let the search for your dream venue begin!
EventUp's simple interface lets event planners browse one of the most comprehensive collection on the web, with locations in over 300 cities. Set your budget and number of attendees and EventUp will instantly pull up a list of matching venues. You can further filter by event type, amenities, and even by the "look and feel" of a space.
One thing that really stood out was what we would dub "The Executive Overview." Every space in EventUp's directory gives planners a quick rundown of the most important highlights; high quality photos, a short description of the space, and a Google map.
Once a space (or two) has grabbed your attention, you can get a quote or chat directly with the venue from the site. And the best part? EventUp doesn't charge you a commission. We think of them as a benevolent matchmaker.
The Propared team works remotely. As a result, we've become Airbnb super fans. So when we found Peerspace, we felt like we were looking at something awfully familiar and we got excited. Peerspace is designed around the concept of "Host" and "Guest." It specializes in matching planners not just to quality venues, but venue managers. This is especially helpful when you have trouble deciding between options. Sometimes, it comes down to who you'd rather spend a few sleepless nights with.
Select the type of event and the city (currently the company lists venues in 7 US cities and Berlin, Paris, and London abroad) and Peerspace will pull up relevant matches. Or if you need some inspiration, browse the site's custom collections. Like Airbnb, Peerspace collects ratings and reviews from its community of users. It then uses this information to create more targeted matches for planners. Browse around and see what other users are saying before you commit. And like Airbnb, you can book a venue right on the site. Pretty handy.
Also in the Airbnb/Peerspace mold is an interesting young company called Splacer. Splacer is a well-designed venue finder currently showing spaces in New York City, San Francisco, Miami, and Los Angeles. Splacer also approaches the venue-finding process from a peer-to-peer perspective. We love this model, as it helps planners build lasting relationships in their cities, guaranteeing more work for both parties.
The layout and function of the site is very similar to Peerspace. The filtering options are a nice touch and tilted more toward planners that are design-oriented. Sort by your event's colors, style, or desired features such as exposed brick, breakout rooms, or outdoor space. We also really like the option to "Book a Visit" from any listing page. There's no replacement for a good in-person site visit.
VenueBook is a great site, especially if you've got a lot of your details already in place. Choose a date, time, budget, and number of guests and VenueBook will quickly return a list of beautiful options for your event. We spent quite a bit of time browsing the listings and were hard-pressed to find one that didn't look high quality.
VenueBook also has some interesting filtering choices. Among others, it allows you to filter by private or semi-private space and food & beverage options (all-inclusive or BYO). We also were impressed by its "ExpressBook" feature, which allows event planners to choose from a series of packages and book events within 48 hours. Perfect for last minute parties or alternatives if you run into trouble with another space. Currently, VenueBook lists spaces in 4 major US cities. Here's hoping they expand to more soon!
There are a couple of things that make Unique Venues well, unique. First, they boast thousands of spaces across the US and Canada that could definitely be considered non-traditional. Ever consider hosting a corporate retreat in an airline hangar?
Second, Unique Venues offers a dedicated team of professional event planners to help you select the perfect venue. Sometimes, you need another person to bounce ideas off, right? That's what UniqueVenue does. They'll listen to your needs and recommend a few venues that would wow your guests. And they'll do it for free. Inspiration, check. We'd like to see a few more resources, such as pictures and descriptions for venues right on the site. The listings we browsed, even those with details require you to submit information requests before moving forward. But hey, if you can call up a specialist at any time, we suppose that's a fair trade.
Yes, the interface is a clunky. The UI/UX isn't the best. But where SmartMeetings excels is it's sheer volume of venue information, particularly for meetings and travel. SmartMeeting's venue finder is just one part of it's vast network of resources which highlight trends across the event planning industry; event tech, destinations, influencers, and more.
SmartMeetings also focuses more specifically on large meeting spaces – convention centers, hotels, etc. If you've got a massive event coming up and a lot of accommodations, travel, and activities to book, SmartMeetings may be the perfect resource for you.
We can't say enough good things about this site. First, the experience is really smooth. Search for wedding venues by specific place, geography, or style. Wedding Spot lists some of the best spaces in the country (they show listings in nearly every state), with plenty of pictures and details.
We tested about a dozen venues and especially liked the ability to build estimates for each one. And with a fairly comprehensive set of filtering options, we definitely think this site is worth checking out.
WeddingWire is truly the granddaddy of wedding websites. It's a one-stop shop for everything wedding-related and that alone makes it worth a look. Let's just focus on the venue-finding features.
The database is enormous. Choose from thousands of venues by location, using filtering tools that are robust but not overwhelming. WeddingWire's real strength is it's user community. Read reviews of venues from other planners or couples, get pricing information, and browse FAQs cultivated from prior guest experiences. WeddingWire also allows you to bookmark and favorite venues you're considering, making it easy to navigate or leave and come back.
We hope these help you find the perfect venue for your next event. If you've got any other resources you'd like us to mention, share them in the comments!